SFX Makeup brands and companies
Special effects (SFX) makeup is an essential part of the film, television, and entertainment industry, used to create fantastical and realistic characters, creatures, and injuries for the screen.
There are many companies that have made a name for themselves in the industry. In this page, we will highlight some of the top brands and companies that have made a significant contribution to the world of SFX makeup. From well-known global brands to up-and-coming companies, we will showcase the best in the business.
NOTE- Some links is outdated and will be updated soon.
Kryolan
Professional Make-Up
Offers professional make-up to the industry so you can accomplish your tasks effectively and create incredible works of art. Learn more
Ben Nye
Professional Makeup for Stage, SFX, and Beauty
Ben Nye is a professional makeup brand serving artists, educators, and makeup fans worldwide.
Mehron
Makeup made in the USA since 1927
Dedicated to exceeding artists expectations, Mehron works in collaboration with renowned industry professionals to create the highest quality performance makeup for Special FX, Stage & Screen, Face & Body Painting, and Pro-Beauty.
Graftobian
Professional Cosmetics for Makeup Artists and Makeup Lovers
Established in 1978, Graftobian is a manufacturer and distributor of virtually every type of make-up. Graftobian takes pride in the fact that they manufacture the products in the United States.
Cinema Secrets
Professional Cosmetics for Makeup Artists and Makeup Enthusiasts Alike
Designed for the entertainment industry, Cinema Secrets have been a backstage essential on the sets of fashion shows, television programmes and films around the world. Made for the bright lights and cameras, this professional makeup brand has stood the test of time with over thirty years of extreme industry-tested experience.
European Body Art
Performance Makup
FX Makeup and makeup supplies. The Transfusion Blood Collection implements a unique and exclusive formulation delivering previously unseen quality, performance and attributes. It meets the demand for a completely waterproof and fast drying blood that doesn't move, transfer or smudge, yet, provides a long lasting fresh wet look. Artists, makeup studios, actors and makeup enthusiasts can rely on EBA's Transfusion Blood Line to stay put and look real from start to finish eliminating time consuming touch ups and messy transfers while providing ultra-realistic looks.
TEMPTU
The Airbrush Beauty Authority
TEMPTU's Atomized Airflow Technology transforms makeup into a micro-fine mist that floats onto skin, creating weightless layers of the most even, uniform, thorough coverage.
Dermaflage
Makeup to cover tattoos and scars
Makeup for all skin imperfections and skin types. Dermaflage makeup will cover tattoos, scars, acne, discoloration and wrinkles. Will solve the most challenging issues.
Bdellium Tools
Best SFX Brushes and Tools for special effects makeup artistry
Creates makeup tools to offer more choices and better control over application in professional beauty and special effects makeup. Delivers unique and innovative makeup tools to support makeup artistry and creative expression.
Smooth-On
Mold Making & Casting Materials
Smooth-On, Inc. is a leading manufacturer of silicone rubbers, polyurethane rubbers and plastics, rigid and flexible urethane foams, epoxies, poly sulfide rubbers, adhesives, coatings, release agents and other material technologies for SFX-makeup artists, prop makers and more.

Tinsley Transfers
Professional 3D transfers
Super realistic temporary tattoos that are applayed with just water. They look real and are long lasting. Great to have in your kit and to create realistic effects on the go when you havea short timeframe.

Dental Distortions
High-end fangs and monster teeth
Fake teeth that look real! Great for creatures, monsters and halloween makeup.

Woochie
Foam and Latex Adhesives
Latex Prosthetics and foam latex appliances that are great for halloween makeup, haunts and stage use.

Wolfe Face Art & FX
Designed by artists for artists
Wolfe Face Art & FX is a highly regarded make-up design company that is recognized for its innovative products and advanced make-up application techniques. They have face paint in great quality loved by many face painters and makeup artists.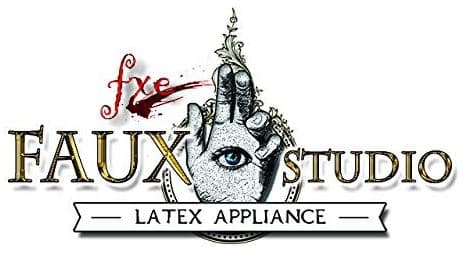 Fxe Faux Studio
Latex appliances
Pre-painted latex prosthetic appliances. Get some adhisive, latex and maybe blood and you are ready to go!
Grimas – Learn more
PPI (Premiere Products Inc.)
Dashbo – Learn more ( Dashbo has great products, but I have been waiting several months for my personal order from Dashbo Makeup and they have managed to provide tracking info for another package that was delivered to another country. They also have a very long response time on email and Facebook. I will remove this information when I have received my package. Products from DASHBO has AMAZING quality and is highly recommended, but I am not impressed by their costumer service, I will remove this information when I have recived my order and what I have paid for). Update 03 May – They will now have the order sent again and will finally respond to inquiries by email 🙂
Reel Creations
MEL Product
W.M Creations
Mouldlife
DUO
3RD DEGREE
Makekup by David Stoneman
Make Up For Ever
Bluebird FX/AFX Company
Neills materials
Motion Picture F/X Company
Vermillion FX
Prosthetic Transfer Material (P.T.M.)
RCFX
Glynn McKay
Lindy SFX
Any brand that you want to add to the list? Please get in touch 🙂
Facebook-group for makeup shop owners
Do you own a make-up shop or webshop where you sell make-up, face painting, beauty, or materials for SFX makeup? Or do you represent a make-up brand? Become a member of this group here for specifically for makeup shop owners and retailers – MAKEUP SHOP OWNERS
---
Recommended blog posts –